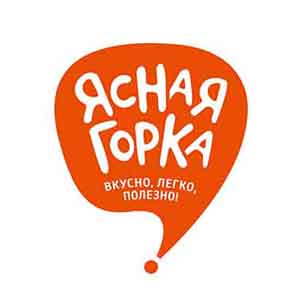 Yasnaya gorka
Chicken sausages from Yasnaya Gorka are not just an opportunity to save cooking time but an opportunity to bring something special and very tasty to the daily routine. The brand gives everyone a chance to "Eat something good every day".
Among the assortment, there is a wide product line of sausages, ham, meatloaf, and smoked products — about 100 items. All the products are made of selected poultry, carefully raised at PRODO own poultry factories. An ideal balance of white and red chicken meat in the recipes, low salt content, tender consistency, and an exquisite taste will impress the consumers. The products are specially created for people with a proactive attitude who don't have much time for cooking but for whom it's important to eat healthily. Yasnaya gorka quickly became popular in many regions and flexible range policy allows to steadily gain loyal customers.
The products of Yasnaya gorka are manufactured only in environmentally safe areas in own factories of the PRODO Group – PRODO Kaluga Poultry Plant JSC, PRODO Tyumen Broiler JSC, PRODO Siberian Poultry Plant JSC, and Perm Poultry Farm JSC. All these enterprises are located in different regions of Russia, but have a lot in common: a full production cycle, advanced technologies used in the cultivation of poultry, modern equipment of meat processing workshops, and most importantly, huge human capital, a staff of high-class specialists for whom work at the poultry factory has become something more than just work. All this allows us to create tasty, safe and high-quality products.
All PRODO Group's poultry factories have certificates of compliance with the requirements of the international food safety standard ISO 22 000. In addition, the enterprises have their own quality management system with requirements that often exceed international standards. Yasnaya gorka is a repeated winner of professional competitions and tastings, such as Professional competition of meat production VNIIMP of V.M.Gorbatov, "Brand of the year", owner of gold medals of the biggest professional exhibitions "Golden Autumn", "Prodexpo", etc.
Frozen ready-to-cook products