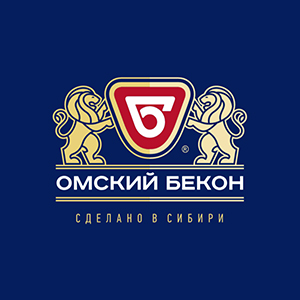 Omsky bacon
Omsky Bacon is recognized as the brand №1 in Siberia. It speaks for itself. The brand is especially popular among young and active Siberians in the prime of their lives, who spend a lot of energy and time on work and family. Omsky Bacon is for the fans of taste!
bacon.ru
The sharply continental climate of Siberia is a test of strength even for the healthiest organism. That is why Omsky Bacon sausages are the ideal "fuel" for Siberians, made from the best ingredients, with excellent taste. The spirit of the brand goes perfectly with the tempered nature of the locals' spirit. No wonder the products of Omsky Bacon are so popular even beyond the Urals. This is a fact recognized by the experts: the research company Ipsos Comcon has called Omsky Bacon the №1 brand in Siberia. Taste and quality inspire confidence and a wide range of products solves the customers' problem of choice. The brand has products for all occasions - from a quiet family dinner to a picnic with friends. The range exceeds 280 items of sausages, delicacies, and ready-to-cook products.
The production of Omsky Bacon in Kalachinsk is known far beyond its region as an enterprise producing high-quality and safe products. The meat processing factory has been operating for more than 80 years, and during this time has become synonymous for a reliable manufacturer for Siberians. It is not surprising that all the largest Siberian retail chains willingly buy products of Omsky Bacon. Brand's products are mainly made from its own raw materials: pork produced at Omsky Bacon (Luzino) and poultry from the poultry farms of PRODO Group. But even its own raw materials are closely controlled, as well as the quality of products at all stages of production.
Omsky Bacon enterprise (Kalachinsk) is certified according to the international food safety standard ISO 22 000. All production processes comply with the norms of the Eurasian Union. Omsky Bacon products regularly win medals and diplomas of prestigious national and international exhibitions and competitions, such as "IFFA" (Frankfurt am Main), "Prodexpo", "Quality Guarantee","100 Best Products of Russia", "Golden Autumn", the professional competition of VNIIMP of Gorbatov and many others.