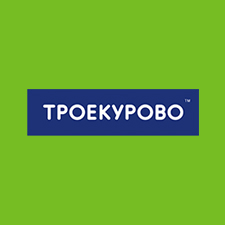 Troekurovo
Troekurovo is a welcome guest at any home. After all, the freshness of products, the highest quality and a wide range of products are the core values of the brand, which have remained unchanged since its foundation.
troekurovo.ru
The quality and freshness of the products of Troekurovo guarantee strict control at all stages of production, and top specialists are constantly working on expanding the assortment. The birds are grown on high-quality feed. We do not use growth hormones and GMOs, and modern technologies allow us to preserve all the nutritional qualities of chicken meat. The range of the brand has more than 70 items. Among them, there are packed carcasses and cutting, minced poultry, offal, high-quality semi-finished products (croquettes, meatballs, and much more), as well as very popular among the nature-lovers grill series. Modern technology and strict quality control allow us to produce truly tasty products. All this provides the brand with the sincere love of consumers: Troekurovo has more than 17 million customers per year..
Troekurovo is produced only in environmentally-safe areas at the PRODO Group's own factories – PRODO Kaluga Poultry Farm JSC, PRODO Tyumen Broiler JSC, PRODO Siberian Poultry Farm JSC, and PRODO Perm Poultry Farm JSC. All these industries are located in different regions of Russia, but have a lot in common: a full production cycle, advanced technologies used in the cultivation of poultry, modern equipment of meat processing workshops, and most importantly, huge human capital, a staff of high-class specialists for whom work at the poultry farm has become something more than just work. All this allows us to create tasty, safe and high-quality products.
All PRODO Group's poultry factories have certificates of compliance with the requirements of the international food safety standard ISO 22 000. In addition, the enterprises have their own quality management system with requirements that often exceed international standards. Professional tasters and experts of the food market highly appreciate the quality and taste of the products of Troekurovo. "Prodexpo", "Golden Autumn", "IFFA" (Frankfurt am Main) — these are just a few of the major exhibitions where Troekurovo regularly receives gold medals. The brand has repeatedly become the winner of specialized contests, such as "Brand of the Year", "Healthy Nutrition". "GEMMA", "100 Best Goods of Russia".
Semi-finished and minced meat
Grill: marinade and barbecue